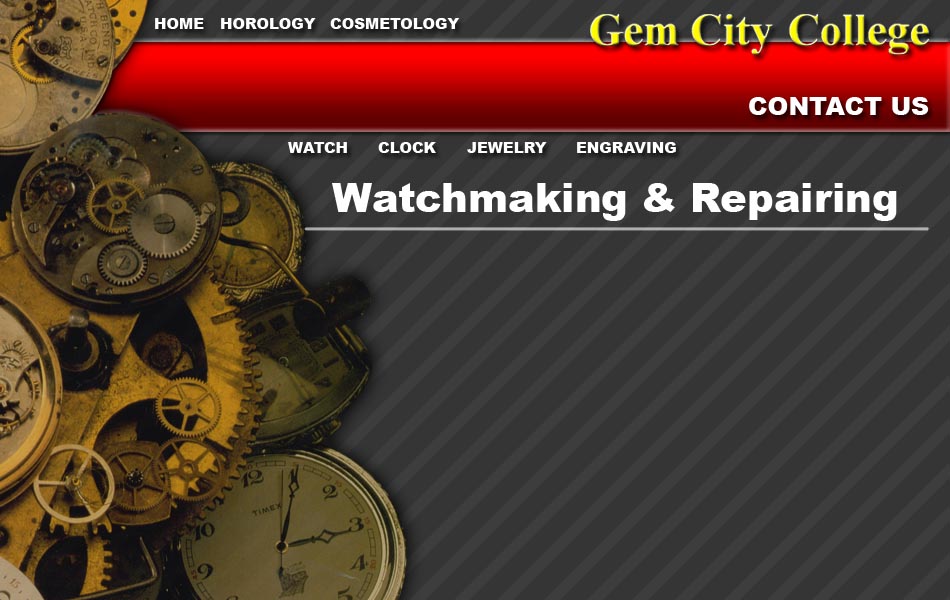 Watchmaking is designed to give the student an understanding of practical watchwork. The number of trained technicians (watchmakers) in the United States continues to decline. The available craftsmen are not able to meet all of the needs of the suppliers, technical operations, jewelry and watch establishments. The student learns hand and eye coordination, which is essential to this profession. Students learn to disassemble, clean, reassemble watches and how to order parts. Lathe work, making a staff and stem, and repairing automatics are some of the areas of additional study. Advanced training includes areas of chronographs, theory of hairsprings, watch escapement and basic mechanical skills. The training program is recognized throughout the United States. Our graduates can be found throughout the nation in jewelry stores, watch repair shops and the watchmaking industry.
Gainful Employer Disclosures - October 1, 2014 - 2013-2014 Award Year
Watchmaking / Repairing
SOC#
49-9064
On Time Completions
*
Job Placement
100%
Median Loan Debt
Title IV Debt
*
Private Loan Debt
*
Institutional Finance Plans
*
Program Costs
$23,807.70
* Programs with fewer than 10 completors are not required to report completion and median loan debt data.
Standard Occupational Classification - 49-9064 Watch Repairers
Repair, clean, and adjust mechanisms of timing instruments, such as watches and clocks. Includes watchmakers, watch technicians, and mechanical timepiece repairers.
Illustrative examples: Clock Repair Technician, Antique Clock Repairer, Horologist
Watch repair school, school of horology, watch repair, clock repair school, clock repair, jewelry repair school, jewelry repair, watch repair training, watchmaking training, watch and clock repair, clock repair training, watch making, jewelry repair training, hand engraving, engraving training, school of gemology, training in engraving, vocational training, jewelry design training, jewelry diamond setting and design.