Learning by doing is a trademark at Gem City College. Each student works at his own bench and receives individualized instruction and attention. The jewelry industry is in need of jewelers with skills in soldering, wax and rubber mold making, casting and stone setting. Various types of settings include (prong, bead, bezel and channel). Students are introduced to the art of designing their own pieces and the creativity of the students comes into reality with the finished project. In addition, ring sizing, re-shanking, re-tipping and re-pronging are incorporated into later projects along with chain repair.
For additional information regarding the Jewelry Diamond Setting and Design Program, please see pages 18 thru 20 of the course catalog located on the Horology Home Page.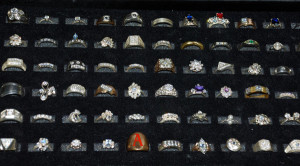 Standard Occupational Classification – 51-9071 Jewelers and Precious Stone and Metal Workers
Design, fabricate, adjust, repair, or appraise jewelry, gold, silver, other precious metals, or gems. Includes diamond polishers and gem cutters, and persons who perform precision casting and modeling of molds, casting metal in molds, or setting precious and semi-precious stones for jewelry and related products.
Illustrative examples: Diamond Setter, Goldsmith, Gemologist