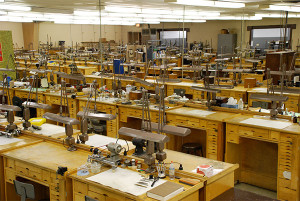 Excellence - it's a well-known tradition at Gem City College School of Horology. We offer training in three areas that will give you immediate recognition as a qualified craftsman with skills that are in demand! The craft offers endless opportunities for artistic and creative people who enjoy the precision handwork. Recommendations from trained professionals across the country attest to Gem City's reputation as one of the finest training centers available for learning watchmaking and repair, clock repair, engraving, jewelry design and repair as well as diamond-setting.
The college has an ongoing system of instruction that allows new students to begin training each Monday. Projects are arranged so that the knowledge and skill attained in each assignment will be utilized to complete the following assignments. Instructors work with each student individually to assist them to progress, as their diligence, aptitude, and ability will permit. Enrollment at the college is similar to employment in the field and the student conduct, attitude, and dress should be the same as that required for the job. Class attendance is an essential part of the student completing the instructional procedure. It is assumed that college students will be present and complete their program.
Placement
Upon graduation, you are entitled to use our placement assistance if needed. This service is available on an individual basis and usually, there are more positions than qualified craftsmen to fill.