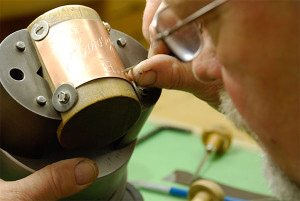 Gem City College is one of the few institutions in the United States to offer a complete program of engraving. Machines can never replace the fine touch of expert craftsmanship and the skill of hand engraving on precious metals. A knowledge of this craft prepares the student to become a better jeweler because of the skills that the graver teaches you. Students learn fundamental designs and how to construct letters of different alphabets (Script, Old English, Block etc.) Designing various styles of monograms, cutting Leaf Alphabets, ornamental designs and scrolls are also mastered in this program. Finally, we introduce machine and steel engraving using powered techniques. For more information about the Hand Engraving Program, please see pages 17 thru 20 of the course catalog on the Horology Home Page.
Standard Occupational Classification – 51-9194 Etchers and Engravers
Engrave or etch metal, wood, rubber, or other materials. Includes such workers as etcher-circuit processors, pantograph engravers, and silk screen etchers. Photoengravers are included in "Prepress Technicians and Workers" (51-5111).
Illustrative examples: Metal Engraver, Glass Etcher