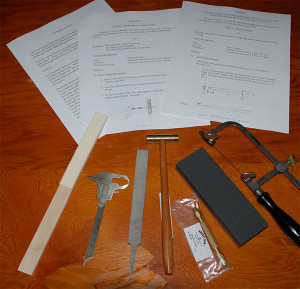 Our Home Study Division offers an alternative for those who cannot relocate to Quincy. Because this division is not included in our national accreditation, students are not eligible for any federal financial assistance, student loans or placement services. A certificate is given to any student who completes all of the lessons in a given program.
These home study programs emphasize practical skills. A step-by-step training method is utilized in which projects are assigned to the student in an order of advancing difficulty. The skills learned in early lessons are applied in later projects. Students gain a working knowledge of the subject since they are truly learning by doing.
Each lesson in the home study program is made up of text material, a self-check test and a practical job assignment. When students have completed a job assignment, they return it to the school for correction, evaluation, and comments by the instructor. Thus, the instructor can spot both strengths and areas in which more work is needed while the student progresses through the training. Instructors will suggest ways for the student to overcome difficulties and answer any questions about the work. Students receive careful, personal attention from their instructor. The classroom teaching experience of the instructors makes them well acquainted with the types of problems commonly encountered by beginning students. Also they have had experience working in their own jewelry and watch repair businesses, so they know the practical problems which face professional jewelers.
Qualifications
Students of clock repairing, watch repairing, engraving, or diamond setting should be able to work with their hands and should have the ability to understand and follow directions. They also should have good eyesight (with or without glasses). However, the most important qualifications are the desire to produce fine workmanship, the ability to stick with projects until they have been perfected, and the desire to do the work well. Individuals who devote themselves to the work will find it to be interesting and rewarding.
Tools and Supplies
The tools and supplies required by each home study course may be obtained from the school. Lists of such equipment will be sent along with the catalog. Prices charged are the standard for the same quality tools as may be purchased from any tool supplier. Students are not required to purchase their tools from the school. However, it is recommended that certain items be obtained here as these have been prepaired especially for use in our courses. Tools and supplies may be purchased as they are required and need not all be purchased at the start of the training program.